I received two Razor scooters in the mail the other day. There is obviously a story behind this
While riding through my office on a scooter I tweeted out this picture and said "Having a Razor scooter pretty much changes everything."
What did I mean by that? Well, I was getting places faster, people were striking up conversation with me about the scooter (so I was making friends), I was getting exercise, and I was having fun. Who ever said you can't have fun at work?
Well, while I was having all my fun, Razor responded to my tweet:
https://twitter.com/RazorWorldwide/status/297124342318366720
Now being the digital geek I am, I was ecstatic they responded in such a  playful way. I started digging into their social profile a bit and researching who they were and discovered they were doing a fantastic job on social media. I  wanted needed to hear more of their story.
After a few back and forth tweets, and emails, we scheduled a time to talk. I had the great opportunity to speak with Sheena Stephens and Adam Rogers from Razor. Sheena heads up PR and Adam is the brains behind all the social interactions. And yes, he does find time to sleep (which I will tell you all about soon). I asked them all sorts of questions about Sales Goals, Target Audience, Product Promotions and the Tools they use.
Read on for the full interview. There is a TON to learn from the folks at Razor!
–
Objectives and Sales Goals
Me: Why is Razor on Social Media? What does the brand hope to accomplish?
Razor: Basically, our social media objectives are to connect directly with our customers and fans. One objective is to support TV advertising. But the other biggest focuses are Brand Loyalty, Customer Support, and Customer Trust.   We also use social media to promote the action sport of scooter riding. If you go to a skate park across America, you will see people riding scooters all around it. Which has led us to sponsor Team Razor, a group of pro scooter athletes that tour the world to compete in scooter competitions.
Me: Does Razor have sales goals through social media? Or is the goal just  to have people love the brand and engage in a fun way?
Razor: We try to connect with our audience and be surprising, and endearing. We really want to connect with everyone who is talking with us. In the toy industry, we have a term called "the nag factor", which is where a child sees something on TV and says I want this, I want that, or when they are in the store with their mom and see the exact toy on a shelf that they saw 3 or 4 times on TV. That is the hook. We try to connect with those parents too on social media and offer support for them to make decisions in their purchases.
Target Audience
Me: Who is your target audience? Who is your Demographic on Twitter:
Razor: On TV, we reach our primary target audience  of 5-12 year olds who watch children's programming. On twitter, it tends to be a big difference.
Twitter has lots of young adults on college campuses who do not have kids of their own with scooters in a garage, or who used to have them when they were younger but grew out of them. They make comments like "look at that kid riding on campus with a scooter, what year do they think we are in?" but they don't know that we still sell over 2 Million scooters a year and are the number one scooter brand. And this is our in. Twitter is a great opportunity to have a sense of humor with these people. The Razor Brand is mentioned roughly 2500 a week. We see this as a great opportunity to shift someones perspective that this is not just something for kids.
Lots of time's they are also trying to get a free scooter
Me: So, what are your thoughts on giving out Freebies?:  Do you give them away? Is that a valuable audience?
Razor: We get lots of requests for free scooters.  Typically for those we respond that there is a location to go buy the scooters.
In general, we usually pass on those requests for free scooters, but one thing we are looking to grow is the "street team" which is where kids make requests for sponsorships. We ask that they send or post a video of themselves doing some kind of trick on a scooter and for these we usually send them out sponsor pack with a t-shirt, stickers or poster. We strive to support them in their aspirations. That's why we have Team Razor and why we support the sport, because it gives the 10 year old kids on a ball court doing a tail whip something to aspire to when they see riders doing back flips on their scooters.
Me: Are these interactions tipping the scale when it comes to making a decision to buy a scooter, or is it meant to keep top of mind?
Razor: One of the biggest things we get out of this is that we have direct communication with our customers and potential customers. We dedicated ourselves to responding to everyone on FB, or anywhere we are mentioned, which builds trust in the brand. They know that if something goes wrong, they have an avenue to reach out to.
Me: So do you work 24/7?
Razor: Well, we let Adam sleep
 But we do have a global presence in 70 different countries, and we have invited representatives from distributors in Australia and the UK to act as page admins. So while Adam is sleeping, they can respond and post in their given markets  regarding Team Razor UK and Team Razor Australia. They are given authority to post content about events in their region which  has been really effective in growing the global presence.
Tools
Me: What tools do you like to use for monitoring?
Razor: Facebook Analytics, and hootsuite. I also use an older version of tweetdeck because there are aspects of it that I still can't find anywhere else.
Me: Have you thought about investing in a more premier tool?
Razor: Yes, but they are expensive. Right now, these tools do exactly what they need  (lesson on being satisfied). The time may come where we have hundreds of comments a day and we have to upgrade, but  right now, it does exactly what we need and wouldn't be worth the money.
Me: What about SEO?  Do you have a content strategy for lasting content?
Razor: Last year, we did launch a new brand as we grow as a toy company. It's called Pony Royale, which is  a departure from the Razor brand, but a new way to grow retail shelf space and grow as a toy company. With that, we launched a very aggressive blogger campaign to support the retail launch of the Pony Royale product line. We used  a Pony Royale Party concept, where influential bloggers and their daughter gets to invite 8 friends to try the toy, and then they get to write about it. What was incredible about it was, obviously we chose very influential bloggers to do this, but for a new brand with very little brand awareness, this provided tremendous long-term value with content that still shows up.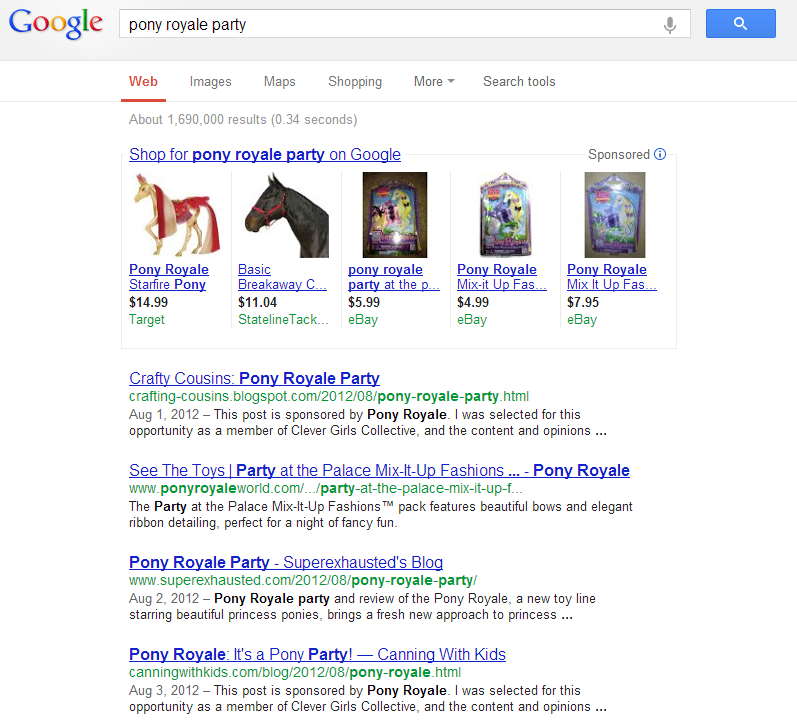 Feedback and Problem Solving
Me: How does Razor use Social Media to solve problems and gauge the overall satisfaction with the products?
Razor: Team Razor Facebook Page Fans are typically very dedicated riders that pay about $300+ for their scooters. So they are very vocal about what they want in terms of product features. So they give a lot of feedback in terms of product development.
We had a great Christmas box story. We realized that one of our distributors was shipping product for Christmas and not double boxing them. So when the kid would open the door, the delivery man was standing there with a box which had a big picture of the Razor item on it, ruining the present surprise. One of our customers  complained about it on Facebook because they saw their son saw the present before Christmas. So we made it right, sent them a new one, double boxed, and they had one to stick under the tree.
The positive response we received was overwhelming. Talk about brand loyalty, this is a customer for life.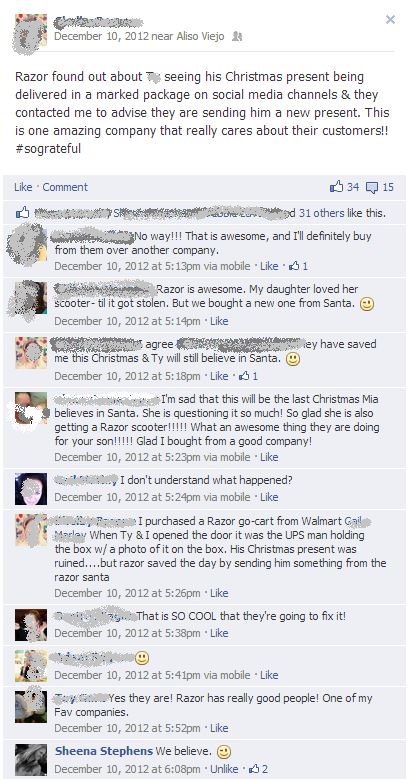 And from a customer service stand-point, Adam provides weekly reports of all customer service interactions on social, so they have an on-going look at trends and issues so they can track and work with the customer service teams. We are typically aligned. The policies we have on Facebook and social media in general line up well with Customer service policies.
Wrapping Up
Me: One final question. What is it like working for a toy company? Because that has to be the coolest thing ever!!!
Razor: Lots of fun, currently we are in a room with about 50 scooters and pogo sticks. It's a toy company that is very innovative and entrepreneurial, which is in the DNA of Razor. Lots of the other  toy companies are very corporate and structured. We have a very flat and entrepreneurial structure which works to our advantage in social media front because it changes so quickly and we can jump in and run with it.
Me: This is amazing stuff. Thank you so much for your time! And thank you so much for the scooters
Razor: Our pleasure… Catch you on the internet!
–
A big big thank you to Sheena and Adam for their time. If anyone has any additional questions for them, send me an email, and I can forward it on to them or leave questions in the comments. I am sure they will join in the conversation
{ 0 comments }