This will be short and sweet. I have been meaning to post this since SMX.
After hearing Derrick Connell speak at the conference, talking about Bing using data from Facebook, and all the impressive changes they are making, I tweeted out: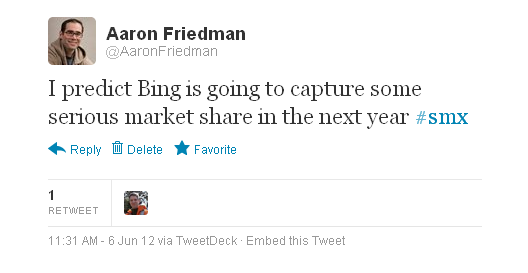 I use Bing way less than Google, that much is for sure. But I was impressed.
Right now, Bing is about 16% market share. I told Barry, who thought I was crazy, that I predict that by this time next year (the date of the tweet as seen above), they will have a solid 25% market share.
Its bold, I know. But nevertheless, if they can keep at it, I think we could see awesome things.
And I want the record to show, that I predicted this, which is why I am blogging about it.
That is all.