Some people choose to take a vacation from social media (matt cutts) by choice or as part of a challenge, others take a vacation from work and shut of their phones and computers and become one with nature. Today, I was riding the train, went to get my phone and realized, I had left it on the seat of my car.
Now, lets back up a second. To give some background information. I didnt even want this phone, or mini computer. I got a sweet deal from verizon so decided to upgrade from my blackberry (which I absolutly loved) to the Droid Incredible (which I absolutly love even more). This phone allows me access to information whenever I want, wherever I am.
But not today. Today, I left it on the seat of my car. And let me tell you about that fiasco.
When I realized I didn't have it, my first thought was, SHOOT! I was pickpocketed. I guess its always possible I droped it but regardless…. SHOOT!
Then when I remembered I left it on the seat of my car my second thought was, CRAP! Someone is for sure going to break the window of my car, steal my phone and I am going to be out a phone and a window of my car.
Then, my next thought was, DAMN! I should have activated the Where's my Droid App. Now I will never have a chance of recovering it, like this heroic man!
Needless to say, the entire day, I was a nervous wreck. But here is the other part to it. A part of me felt completely useless. Which is when it hit me just how crucial Mobile Marketing is. So I guess I should give a shout out to the mobile man himself, Bryson Meunier.
Besides for the comfort of holding your phone in front of you and scrolling through twitter and facebook feeds and connecting quickly with your social network, getting emails when you need them, there always tends to be somethign that comes up when I am on the train that I want an immediate answer to. Until today, I never realized just how much I use my phone for searching.
Sure, there is always a silly or amazing picture I want to share with my entire social network (which of course was another missed activity that gave me pause today), and sure there was something I wanted to remember which I would have loved to type into my notepad (image is of my manual list of things to remember),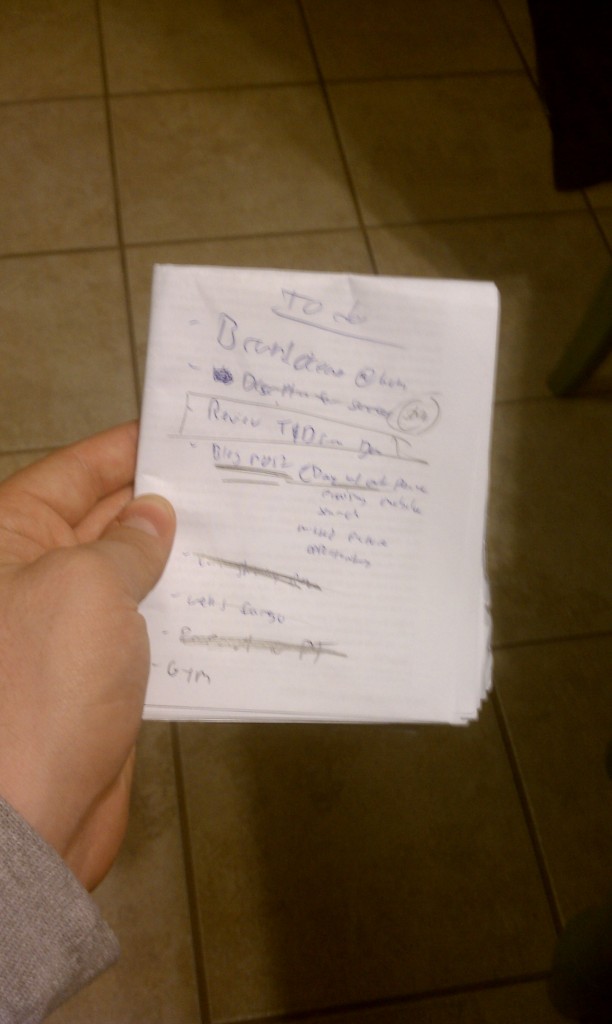 But the fact that I was missing the information that SHOULD have been at my fingertips was what really got to me.
I was enviously noticing all the blackberries, Ipads, Kindles and Iphones on the train which really made me aware of how unbelievably vast the mobile marketing potential is and how brands are undoubtedly missing out by not being in that space.
I am a big believer that there is always a silver lining behind all misfortunes. But, with that being said, I have learned what I need to from this and could do without any more lessons of this sort.