I read about a show  on VH1 called Storytellers. The premise of the show is to bring musicians on, they then perform their songs and share stories about the inspiration that led them to the song. Personally, I want to see Gotye explain that song that every person in the world reacts to this way. (Side note: His remix of all the remixes ROCKS!)
The Idea is Awesome
But I have often questioned if we are allowed to interpret art how we want to. Since art is often left to the imagination. Do we have a right to interpret art however we want, whether it be music or a painting?
We do a pretty cool thing at spark. In a partnership with the Art Institute, every employee is given the chance to go on a "perspective tour".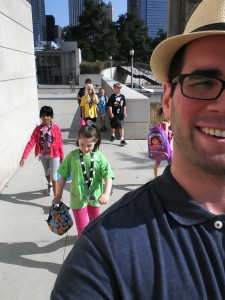 If you haven't gone on a tour like this, then my friends, you have not experienced art before.
There was only one rule that we had to abide by and it was "Do not point at the art work when describing it". We had to use words and articulate what we wanted to say (I broke this rule on numerous occasions… oops).
We were also constantly asked, "what do YOU think the artist meant when they made this?" And his was the question I pondered. Is that for me to decide? Clearly the artist had something in mind. Do I have the right to decide?
A lesson for marketers
I realized a profound lesson at this time. While there is indeed a message intended, that message, when sent into the world, is left open to interpretation. As a marketer, we need to find a balance of clarity. Be clear with what we are trying to convey. However, sometimes leave a little to the imagination. If we are "too clear" we limit our audience and we want our audience to have to decide for themselves how they feel about things. Our audience needs to feel as though the message speaks to them.
So while every song has a story, and every painting captured a specific moment in time, the lack of clarity sometimes brings out the beauty.
And that is what we call art.