I want to be clear, I am striking against censorship! But Aaron Friedman's little nothing blog on digital strategy shutting the lights and going dark for a day I suspect wont make much of an impact on the interwebs.
The Social Media movement to lobby against these bills has spoken, and we wont tolerate it. So, instead, to show my support, I am posting about the fight against #SOPA and #PIPA with information for you to read.
SIGN THE PETITION HERE AND TAKE ACTION
Why does this matter?
This video will explain it much better than I can:
Basically, the US Senate is considering legislation that would certainly kill the internet as we know it forever. The legislation is called the PROTECT IP Act (PIPA), and would put the internet in legal jeopardy if we linked to a site anywhere online that had any links to copyright infringement.

That means, Google, Reddit, Facebook, Wikipedia and other sites that we all know and love will never be the same.
Do we really want to live in a world with this: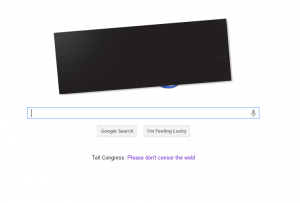 This
The Internet has spoken and has had enough. If you are interested in seeing the internet as you know it stick around, then I suggest you join me and sign the petition.